Jurassic World: Dominion Dominates Fandom Wikis - The Loop
Play Sound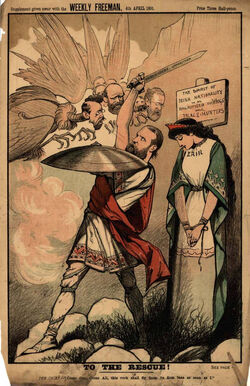 The Weekly Freeman was the weekend edition of the Freeman's Journal, a nationalist daily broadsheet published in Dublin from 1763 to 1924, when it was merged into the Irish Independent.
The Weekly Freeman began publishing in 1871. From 1879 to 1880 is included a black and white cartoon on its front page, and from December 1880 it began including a large colour political cartoon, printed on card by chromolithography, as a supplement, an innovation that was soon copied by other papers. The paper was Parnellite, and the satire of its cartoons was more propagandist than humorous. As well as caricatures of prominent political figures, they regularly featured Erin, the female personification of Ireland, a dark-haired, classically-dressed, late Victorian beauty, and Pat, the male personification of the Irish people as a handsome tenant farmer with small, bushy sideburns, amiable but often discreetly armed with a shillelagh.
From 1879, the Weekly Freeman's regular cartoonist was John Fergus O'Hea, whose bold line, robust, dynamic figures and strong likenesses set the standard until he left in 1892 over the Parnell marriage scandal (he continued to support Parnell, while the paper sided against him). In 1890 William Ewart Gladstone gave "a high testimony to the ability and principle of the Weekly Freeman artist" (O'Hea's cartoons were unsigned) and described his pencil as "directly guided by a spirit of patriotism".
In 1892 the Freeman's Journal absorbed the anti-Parnellite National Press, and its cartoonist, Thomas Fitzpatrick, formerly O'Hea's assistant on Pat, became the regular cartoonist for the Weekly Freeman and National Press, working in a very similar style to O'Hea. In about 1898 he was succeeded by Phil Blake, whose art nouveau style was something of a departure. James Joyce, in a chapter of Ulysses describing the production of the Weekly Freeman, refers to "Phil Blake's weekly Pat and Bull story" - perhaps a regular comic strip? Blake seems to have been the regular, but not sole, cartoonist until about 1903, when the more illustrative W. C. Mills took over. W. T. O'Shea also drew cartoons for the paper at some point in the 1880s or 90s.
Some time after 1915 the chromolithographic supplements were discontinued. From 1920 to 1924 Ernest Forbes ("Shemus") drew cartoons for both the Freeman's Journal and the Weekly Freeman, mostly in pen and ink but occasionally in watercolour.
Cartoons
[
]
1881 | 1882 | 1883 | 1884 | 1885 | 1886 | 1887 | 1888 | 1889 | 1890 | 1891 | 1892 | 1893 | 1894 | 1895 | 1896 | 1897 | 1898 | 1899 | 1900 | 1901 | 1902 | 1903 | 1904 | 1905 | 1906 | 1907 | 1908 | 1909 | 1910 | 1911 | 1912 | 1913 | 1914 | 1915
References
[
]
Felix M. Larkin, "The Shemus cartoons", Pue's Occurrences, 17 December 2009
Lewis P. Curtis Jr., Apes and Angels: The Irishman in Victorian Caricature, David & Charles, 1971
Roy Douglas, Liam Harte & Jim O'Hara, Drawing Conclusions: a Cartoon History of Anglo-Irish Relations 1798-1998, The Blackstaff Press, 1998
Joel A. Hollander, Coloured Political Lithographs as Irish Propaganda, The Edwin Mellen Press, 2007
Carmel Doyle, "O'Hea, John Fergus", Dictionary of Irish Biography, (Eds.) James Mcguire, James Quinn, Cambridge University Press, 2009
Online reference
[
]