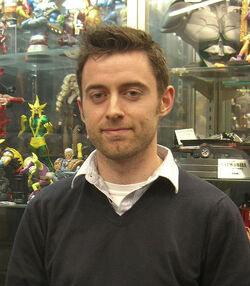 Will Sliney is an award winning and best selling comics artist and writer from Cork. He is currently (2013) the artist for Marvel's Fearless Defenders series which is part of the Marvel Now re-launch, and his graphic novel Celtic Warrior: The Legend of Cú Chulainn, published by The O'Brien Press in 2013, made the Irish Times bestseller list and is also the fastest selling graphic novel in Ireland. He is a member of the Eclectic Micks sketchblog.
He started in the small press, drawing "Sleepwalker", written by Kieran Murphy, in FutureQuake #8, and Rob Curley's 1950s superhero comic Atomic Rocket Group 66 in 2007. He got his first work in American comics in 2009, drawing several comics spun off from the science fiction TV series Farscape for Boom! Studios, as well as covers for other series. On the web, he drew The Symptoms, written by Dave Hendrick, which came fourth on DC's webcomic competition site Zuda in September 2009, and wrote and drew The Age of Heroes, a superhero comic which he serialised on his blog in January-February 2010. He has drawn Star Wars: The Clone Wars (2011-12) for Egmont/Titan, Steed and Mrs Peel (2012) for Boom! Studios, and MacGuyver (2012) for Image Comics (2012), before he was hired by Marvel to draw Fearless Defenders in February 2013.
External links
Edit
Online reference
Edit
Wikia: Farscape | Star Wars
Community content is available under
CC-BY-SA
unless otherwise noted.