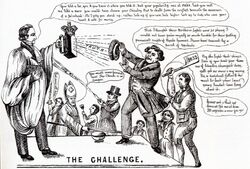 William McComb (b. Coleraine, 17 August 1793; d. Belfast, 13 September 1873) was a Belfast-based poet, political and religious activist and cartoonist, known as "the laureate of the Presbyterian Church".
He was born in Coleraine, County Londonderry, and grew up in Derry city. He was apprenticed to a draper in Belfast, and founded one of Belfast's first Sunday schools. Beginning in his early twenties, he published his poems in local newspapers. He trained as a schoolteacher with the Kildare Place Society in Dublin, and taught at Brown Street daily school in the Shankill area of Belfast. In 1817 he published his first book, The Dirge of O'Neill and other Poems, which was moderately successful. He followed it with a second collection of poems, The School of the Sabbath, in 1822. In 1827, following the death of his first wife, he gave up teaching and became a bookseller. In 1840 he founded McComb's Presbyterian Alamanac, a popular annual publication which ran until 1881.
In 1841 he published The Repealer Repulsed, a hostile account of Daniel O'Connell's attempt to address supporters in Belfast as part of his campaign to repeal the Act of Union, which was disrupted by supporters of the anti-Repeal activist Rev. Henry Cooke and degenerated into a riot. The book includes a report of speeches made at a meeting of Cooke's supporters, various pieces satirising O'Connell, and cartoons drawn by McComb, inspired by the anti-Repeal prints published by John Doyle in London.
His third volume of poetry, The Voice of a Year, or, Recollections of 1848, was published in 1849, and a collected edition of his poems, Poetical Works, was published in 1864. His work was highly acclaimed in Protestant circles in Belfast, but his anti-Catholicism limited his appeal. He died in Belfast and was buried in Hillsborough, County Down.
From The Repealer Repulsed

[

edit

|

edit source

]
Patrick Maume, "Repelling the Repealer: William McComb's caricatures of Daniel O'Connell", History Ireland Vol 13 issue 2, 2005
Thomas Hamilton, "McComb, William (1793–1873)", rev. Katherine Mullin, Oxford Dictionary of National Biography, Oxford University Press, 2004, accessed 5 Aug 2009
Patrick Maume, "McComb, William", Dictionary of Irish Biography, (Eds.) James Mcguire, James Quinn, Cambridge University Press, 2009
Ireland in Schools photo album: Daniel O'Connell, Catholic Emancipation & Repeal of the Union
Community content is available under
CC-BY-SA
unless otherwise noted.