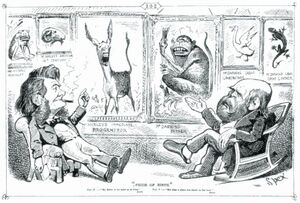 Zoz, or the Irish Charivari was a satirical magazine published in Dublin by W. P. Swan from 1876 to 1877, edited by Edwin Hamilton with cartoons by John Fergus O'Hea (under the name "Spex"), J. D. Reigh and A. F. Blood. It toned down the politics of its predecessors, Zozimus and Ireland's Eye, and concentrated on personalities and society figures. After it folded, Hamilton and O'Hea launched yet another magazine, Pat, in 1879.
References
Edit
B. P. Bowen, "Dublin Humourous Periodicals of the 19th Century", Dublin Historical Record Vol 13 No 1, 1952, pp. 2-11
Community content is available under
CC-BY-SA
unless otherwise noted.